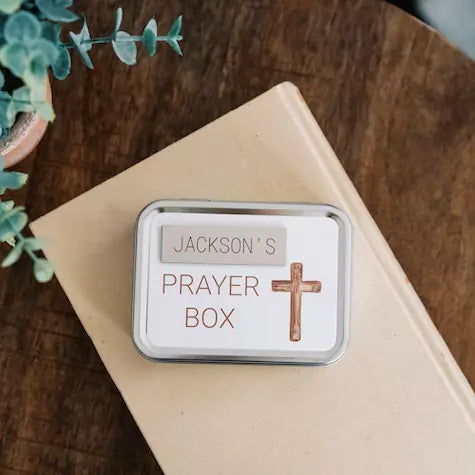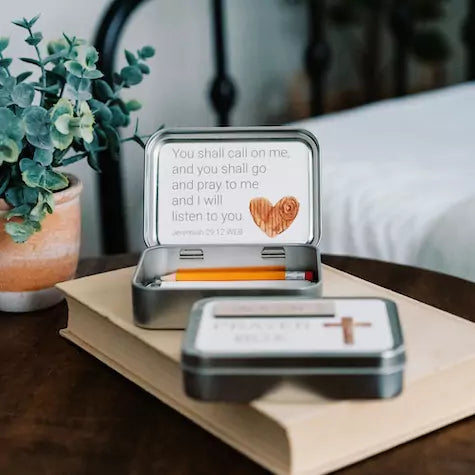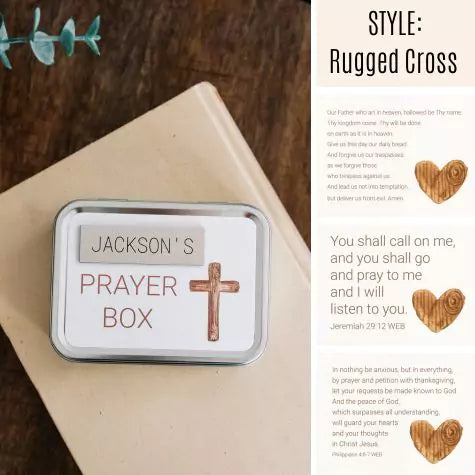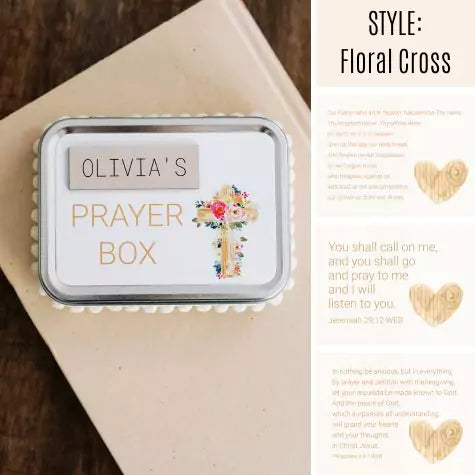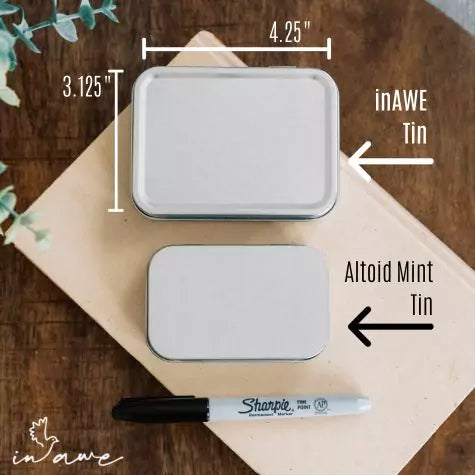 First Communion Gift for Boys - Personalized Prayer Box
Ships In 5 Business Days or Less
---
Celebrate a momentous occasion in a young boy's spiritual journey with our exquisite Personalized Prayer Box, the perfect first communion gift for a boy. Handcrafted with care in the USA, this thoughtful box is meticulously designed to hold heartfelt prayers and cherished keepsakes.
Its ideal size allows for a meaningful gift card to nestle inside, adding a personalized touch to this profound gesture. As a one-of-a-kind Christian gift, this prayer box embodies the significance of this special milestone in a boy's life.
Mark the occasion of a first communion with a gift that fosters a deeper connection to faith and spirituality. Beyond its structural elegance and individualized touch, this prayer box serves as a treasured symbol of devotion and reverence.
As the young recipient embarks on this sacred journey, this handmade box becomes a precious repository for his aspirations, offering a space to express desires and cultivate a meaningful relationship with God. Gift him not just a tangible keepsake, but a pathway to nurturing a lifelong connection with faith and spirituality through our Personalized Prayer Box.

inAWE prayer boxes are 4-¼" wide by 3-⅛" tall and 1" deep - much larger than an Altoid tin. They are just the right size to hold a gift card - which makes a wonderful addition to this handmade Christian gift.

Each personalized prayer box comes with 20 blank pieces of paper and a 4" pencil with an eraser. Additional blank pages for our prayer boxes may be purchased here.

Nameplates are laser-engraved onto an acrylic material in colors of white, ivory or gray (depending on the style you choose.) The maximum number of characters that will fit on the nameplate is 12 - leaving enough room for the apostrophe and S.

NOTE: Apostrophe and S ('s) will be added to all names - including those that end with an S. For example, JAMES'S. We follow these guidelines published by Grammerly.

We are committed to purchasing graphics from other small businesses along with commercial licenses as needed. We are so grateful to the talented artists who help us make our products special. Here's a list of the style variations and their artists.

Boho Blush > KA Font Designs - https://www.etsy.com/shop/KAFontDesigns

Cross - Blue > Lagartixa Shop - https://www.etsy.com/shop/LagartixaShop

Dandelion > Paper Starr Studio - https://paperstarr.com/

Floral Cross > Lagartixa Shop - https://www.etsy.com/shop/LagartixaShop

Pines > Echo Park Paper Co - https://www.snapclicksupply.com/digital-products/lets-lumberjack-mega-collection/

Pink Rose Cross > Lagartixa Shop - https://www.etsy.com/shop/LagartixaShop

Rainbow > Poppy Moon Design - https://www.etsy.com/shop/poppymoondesign

Rugged Cross > Lagartixa Shop - https://www.etsy.com/shop/LagartixaShop

Sage > KA Font Designs - https://www.etsy.com/shop/KAFontDesigns

Vintage Pink > Design Lover Studio - https://www.etsy.com/shop/designloverstudio

inAWE Handmade offers free shipping for all US orders via USPS Ground Advantage (previously known as First Class mail), which includes tracking information but no insurance.

Upgrades to USPS Priority or Express mail are available at checkout; both include tracking information and insurance.

USPS Priority shipping typically delivers in 2-3 days, but delivery date is not guaranteed. The cost starts at $6.95 and is calculated based on weight.

USPS Express shipping delivers in 1-2 days. Delivery is guaranteed, but it is pricey - starting at $30.

We accept returns with the following requirements:
· Notify us within 3 business days of receiving order
· Postdate return within 7 business days of receiving order
· Return postage must include tracking info and is paid by customer
· Refund issued when item is received by InAweHandmade.

We do not accept exchanges.

Bible verses are from the World English Bible (WEB), a public domain translation of the Holy Bible published at eBible.org.

You shall call on me, and you shall go and pray to me and I will listen to you. - Jeremiah 29:12 (WEB)

In nothing be anxious, but in everything, by prayer and petition with thanksgiving, let your requests be made known to God. And the peace of God, which surpasses all understanding, will guard your hearts and your thoughts in Christ Jesus. - Philippians 4:6-7 (WEB)

The Lord's Prayer
Our Father who art in heaven, hallowed be Thy name. Thy kingdom come. Thy will be done, on earth as it is in heaven. Give us this day our daily bread. And forgive us our trespasses, as we forgive those who trespass against us. And lead us not into temptation, but deliver us from evil. Amen.